The Director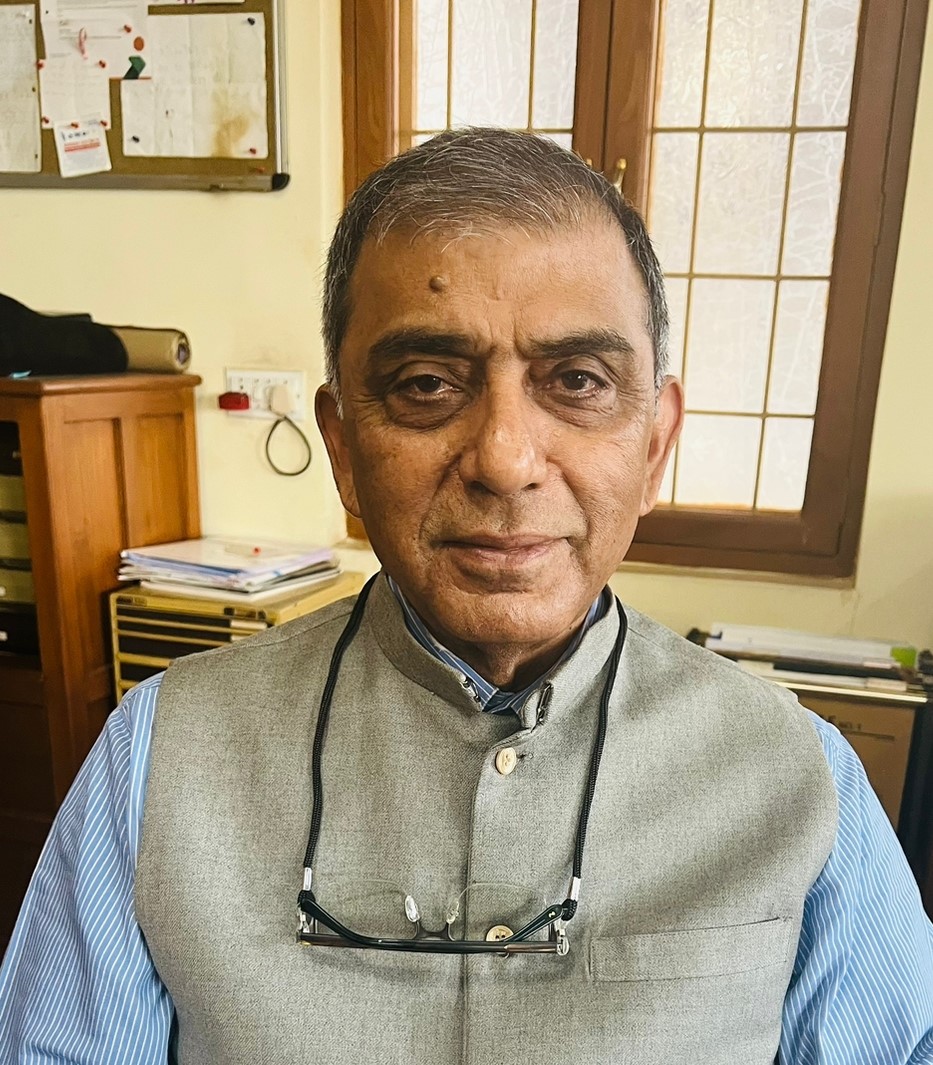 Dr. Prasanta Mahapatra
IAS Retd.
M.B.B.S (Utkal), SD (Harvard).
Takemi Fellow in Intl. Health (Harvard).
Director, Since 11-01-2023.
Dr. Prasanta Mahapatra, is a medical doctor, a Takemi Fellow in International Health and a PhD in International Health Policy & Economics from Harvard University. After a short practice as Medical Officer in the Central Government Health Scheme, he served as a member of the Indian Administrative Service (IAS), from September 1980 to February 2014.
During the course of his civil service career, Dr. Mahapatra served in various capacities in East-West Godavari, Nellore, Nalgonda, Krishna and Guntur districts. He is experienced in revenue, general administration, disaster management, rural development, tribal welfare, women welfare, medical, health, information technology, water resources and school education sectors. Before his retirement from civil service, he was the Director General of the MCR Human Resources Development Institute and Ex-officio Special Chief Secretary to Govt. of Andhra Pradesh.
Dr. Mahapatra has rich experience in various aspects of primary health care, maternal & child health (MCH) services and nutrition. As a general duty medical officer, he rendered primary medical care. As development officer, in a tribal area block, he gained insights from the field about the Integrated Child Development (ICDS) scheme and Primary Health Centre (PHCs) in remote and rural areas. These threads were pursued by him during the course of his various roles in general administration, rural development, tribal-, women- welfare & development departments. For example; rural livelihoods, food security, housing, nutrition, health and family welfare linkages, were in focus during the course of his work as Sub Collector, Project Director District Rural Development Agency and District Collector. As Director Tribal Welfare, he contributed to formation of a separate Tribal Health Service cadre to improve availability of doctors in Tribal Areas. As Principal Secretary in Women and Child Development department, he contributed to strengthening of systems for effective delivery of ICDS. He was Executive Committee member of the National Nutrition Mission, constitute by the Government of India in July 2003.
Recognising his systems approach and flare for institutional development the Government of Andhra Pradesh commissioned him for several health system strengthening (HSS) missions. As officer of special duty, Dr. Mahapatra established the first university of health sciences in India, and was the first Registrar of the AP University of Health Sciences at Vijayawada. In 2011, the State Government commissioned him to streamline management of the Nizams Institute of Medical Sciences (NIMS), Hyderabad, as its Director & Vice Chancellor of the NIMS university. His work in streamlining the human resource management, postgraduate specialty and super-specialty medical education programs in NIMS, were much appreciated.
During late 1980s, while working as Commissioner Vaidya Vidhana Parishad, Dr. Mahapatra streamlined functioning of more than 100 district and subdistrict hospitals in the State, and conceived of the first referral health systems project. In the post Alma Ata era, primary health care was erroneously confused with primary health centres and any form of health system development involving hospitals was a taboo. Public hospitals at subdistrict service centres, such as the Taluk hospitals were awfully inadequate for large populations in the respective areas. WHO's 'District Hospital' concept as the first referral hospital for primary health care was confused with District Headquarters Hospital in India. The semantic confusion of primary health care with primary health centre and the district hospital with district headquarters hospital in India, had resulted in stagnation of subdistrict hospitals and maternity hospitals. Dr. Mahapatra formulated a system of nomenclature and standard matrix for various categories of hospitals, and conceived the Area Hospital with scope similar to WHO's concept of first referral hospital in a hospital district. This enabled development of Taluk hospitals at subdivisional headquarters, agency area development centres and in towns with more than 50,000 population to be developed as 100 bedded Area Hospitals.
Dr. Mahapatra highlighted the importance of first referral hospital services in primary health care and argued for investments in middle level general hospitals as well as maternity and child health (MCH) hospitals. He backed up these concepts with policy analysis and health systems research during the course of the Takemi Fellowship at Harvard University. His research work and publications on allocation of resources to- and performance measurement of middle level hospitals helped the World Bank in appraisal of the Government of India's proposals for development of first referral hospitals in Andhra Pradesh and Telangana. The health systems development concept and project framework formed the basis for World Bank support for development of health systems in many other states. Dr. Prasanta Mahapatra's vision about the need and importance of health systems strengthening during the late 80s and early 90s eventually resulted in financing of Health Systems Development projects, by the World Bank, in seven Indian states involving combined investments of about 4000 crore rupees during late 1990s and the following decade.
Dr. Mahapatra was the Dy Team Leader of the Harvard Burden of Disease Unit team for the study in 1995-96, of the Health Sector in Mauritius: Resource Use, Intervention Cost and Options for Efficiency Enhancement. The project was commissioned by the Government of Mauritius and funded by the World Bank. In 2019-20, Dr. Mahapatra developed a fund mobilization strategy for the Bhutan Health Trust Fund (BHTF). The work was commissioned by the Royal Government of Bhutan and the Asian Development Bank. From January 2020 to October 2021, he served as Senior Health Specialist (consultant) in the Asian Development Bank to support strategic interventions in the health sector towards achieving universal health coverage and for development of ADB's India Health Strategy.
Dr. Mahapatra is a pioneer health systems researcher in India. His research work and publications straddle the breadth and depth of health system issues, including (a) health system performance assessment, (b) estimation of disease burden, (c) reproductive and child health sector reform, (d) human resources for health, (e) healthcare financing, (f) information technology applications for healthcare, etc. He has served as member of ICMR Scientific Advisory Group, Core Group of the Department of Health Research, and the Scientific and Technical Advisory Group of the WHO - Alliance for Health Policy & Systems Research. Dr. Mahapatra has contributed to the Global Burden of Disease estimates published in the World Bank's World Development Report, 1993. He has published articles and books in the fields of general administration, rural development, and public health.
Dr. Mahapatra is working pro bono, as Director with effect from 11th January 2023, consequent on retirement of Mr. G. Surendra. Dr. Mahapatra also happens be the President & Dean.
Honour Roll of Past Directors:
02‑09‑2009 to 10‑01‑2023: Mr. G. Surendra
11‑05‑2009 to 02‑09‑2009: Ms B. Srikanthi

BSc. (Home Sc),
Masters in Food Sc & Nutrition (FSN),
PG Dip in Public Health Mgmt.
10‑03‑2005 to 10‑05‑2009: Dr. C.K. George

Dr. C. Korah George

M.B.B.S. (Univ of Kerala),
Master of Community Health (JNU)

01‑09‑2004 to 09‑03‑2005:Dr. Dayakar Thota

Prof. Dayakar Thota

M.B.B.S., Masters in Hospital Admin.,
Masters in Defence Sciences.

20‑08‑2003 to 31‑08‑2004: Dr. C.K. George

Dr. C. Korah George

M.B.B.S. (Univ of Kerala),
Master of Community Health (JNU)

20‑08‑1998 to 19‑08‑2003: Dr. P. Mahapatra

Dr. Prasanta Mahaptra

IAS, M.B.B.S. (Utkal), SD (Harvard)
Takemi Fellow in Intl. Health (Harvard),

12‑06‑1998 to 19‑08‑1998: Ms S. Srilatha

01‑06‑1994 to 11‑06‑1998: Dr. Alex George

01‑02‑1994 to 31‑05‑1994: Mr. PC Kasinath

30‑01‑1993 to 31‑01‑1994: Dr. GNV Ramana

05‑12‑1990 to 29‑01‑1993: Dr. P. Hrishikesh

Founder Director (Honorary)

-------------