The Director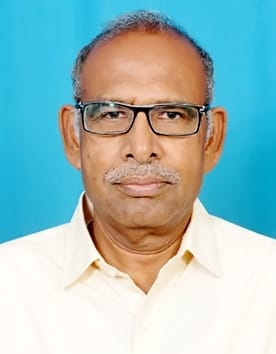 Shri Gudivendala Surendra
MSc Statistics.
Director, Since 03-09-2009.
Shri G. Surendra is Post Graduate in Statistics and has completed coursework at the Centre for Economic and Social Studies, Hyderabad for Ph.D in Development Statistics. He did an online course on 'Health in Numbers: Quantitative Methods in Clinical and Public Health Research' from the Harvard School of Public Health; another online course on 'Principles of Public Health' from the University of California at Irvine; and yet another online course on 'Health Informatics in the Cloud' from the Georgia Institute of Technology.
He was a member of the State Economic & Statistical Service of the undivided Andhra Pradesh. He has rich experience in various areas of public administration, including; (a) Planning & Statistics, (b) Rural & Urban Development, (c) Information Technology, and (d) Hospital Management. Prior to joining the IHS, Shri G. Surendra he served as Associate Director & Chief Technology Officer of the LV Prasad Eye Institute. He is a Certified Information Systems Auditor. he has undergone training on Laboratory Quality Management System and Internal Audit as per ISO/IEC 17025:2005 and 2017.
Shri G. Surendra, joined the IHS as Director 02-09-2009, at a time when the Institute was passing through difficult times. The Institute was operating under financial constraint and with limited staff. Several projects remained incomplete. Mr. Surendra, picked up the threads and assiduously worked to complete each one of the pending projects. These include; (a) Mapping Public Health Education, Training in India: Institutions and Courses; and (b) Andhra Pradesh Yogadhyayna Parishad Systems and APYP (GoAP) 2007-08 Procedures: Assessment and Documentation.
Some projects, namely; (a) State Level Health Budget and Expenditure Tracking for AP, MP and Kerala; (b) Medium Term Expenditure Framework for Health in Andhra Pradesh for 2008-09 to 2012-13; and (c) Cause of Death Coding for CHAMPION Trial, had just started. Mr. Surendra quickly grasped the objectives and methodology of each of these projects, and completed these studies to the satisfaction of respective clients.
He took up several new projects completed them successfully. These include; (a) the AP Civil Registration Systems study; (b) Behavioral Tracking Survey among high-risk groups in Guntur & Srikakulam; (c) Review of EMRI model of emergency response (ERS) in AP, sponsored by the National Health Systems Resource Centre; and (d) Gap analysis in rural health care Institutions in Mahabubnagar district. He presented a poster on AP Civil Registration System at the First Global Symposium on Health Systems Research at Montreux, Switzerland in November 2010.
The Hyderabad Water Quality Monitoring project received substantial boost under his leaderships. Soon after his joining the Institute submitted proposals for enhancement of samples based on the recommendations of international standards for drinking water. The Hyderabad Metro Water Supply and Sewerage Board (HMWSSB) agreed with the proposal. The IHS Laboratory significantly increased its output and has been a major source of revenue for the Institute, since then. He diligently implemented the Water Quality Monitoring project, coordinating with Water Quality Investigators in the field. Under his leadership the Institute could sustain the water quality monitoring project during the Covid-19 pandemic period, despite several constraints and difficulties.
The IHS Laboratory has been substantially expanded under his leadership. First the Chemical Laboratory was established as a separate unit, so that both Chemical and Microbiology sections of the laboratory could develop and improve quality of testing services. The laboratory received NABL accreditation first for the Chemical Lab and recently for both Chemical and Microbiology lab with substantially expanded scope.
More recent projects taken up his leadership include; (a) Policy briefs on Public Health Care System (Primary vs Specialist Medical Care; Quality of Institutional Deliveries, and Rising Caesarian Sections); and (b) several rounds of the Metro water consumer complaints surveillance (MCC) study.
Mr. Surendra has ensured that various regulatory returns and accrediting and affiliation fillings were made in time and the Institute has sustained its regulator standing and affiliations. His sincerity, readiness to learn and amiable nature endeared and inspired all IHS personnel, and clients.
Honour Roll of Past Directors:
11‑05‑2009 to 02‑09‑2009: Ms B. Srikanthi
05‑03‑2005 to 10‑05‑2009: Dr. C.K. George
01‑09‑2004 to 04‑03‑2005:Dr. Dayakar Thota
20‑08‑2003 to 31‑08‑2004: Dr. C.K. George
20‑08‑1998 to 19‑08‑2003: Dr. P. Mahapatra
12‑06‑1998 to 19‑08‑1998: Ms S. Srilatha
01‑06‑1994 to 11‑06‑1998: Dr. Alex George
01‑02‑1994 to 31‑05‑1994: Mr. PC Kasinath
30‑01‑1993 to 31‑01‑1994: Dr. GNV Ramana
05‑12‑1990 to 29‑01‑1993: Dr. P. Hrishikesh

Founder Director (Honorary)
-------------