The Chairman
Page under construction.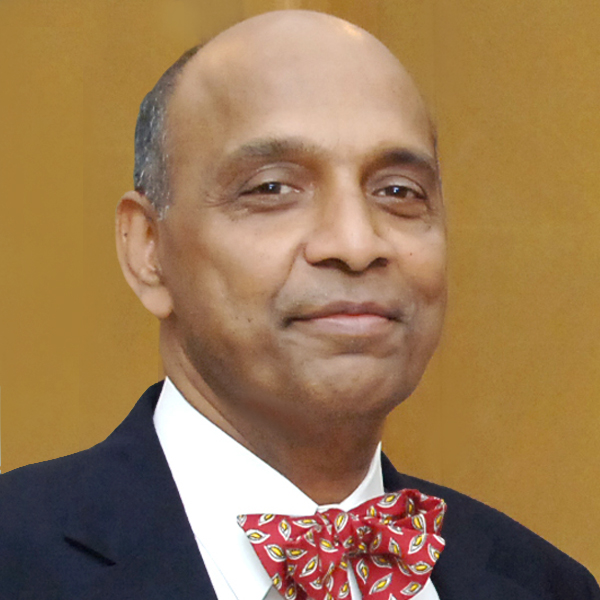 Dr. Gullapalli Nageswara Rao
M.D. (Opthal.) (AIIMS), FAMS, FACS, FRCS, FNASc.
Distinguished Chair of Eye Health, L V Prasad Eye Institute
After a successful career in the US as an academic Ophthalmologist, in 1987 Dr. Gullapalli N. Rao established the L V Prasad Eye Institute (LVPEI) in Hyderabad, India 35 years ago and is the Founder & Chair of that Institute. L V Prasad Eye Institute is a complex of modern eye hospital with advanced training programmes for ophthalmologists and allied eye health personnel, an eye research centre, rehabilitation programme, product development and high‑quality eye care models for underserved areas.
Dr. Rao received his basic medical education in Guntur, Andhra Pradesh, and completed his postgraduate residency training at Dr. Rajendra Prasad Centre for Ophthalmic Sciences, All India Institute of Medical Sciences, New Delhi. In the US, he trained at Tufts University School of Medicine in Boston, and later at the School of Medicine, University of Rochester, where he continued on the faculty until 1986.
Academic and Research Achievements:
Honorary Doctorates from the University of Melbourne and University of New South Wales, Australia, Dr. NTR University of Health Sciences, India, University of Bradford, UK and GITAM University, India.
President of "Academia Ophthalmologica Internationalis (AOI)", group of 80 of the most eminent academicians in ophthalmology in the world.
Visiting professor to many Universities in the U.S, Europe, Australia and Asia.
Published over 300 papers in peer reviewed international journals (H index: 77; i10 index: 231).
Editorial Boards of several international journals of ophthalmology.
Editorial in the 100th year publication of British Journal of Ophthalmology.
Member of the Jury of Annual Vision Science Award (1.0 million Euro) of the Champalimaud Foundation, Portugal.
"Fellow qua surgeon" of the "Royal college of Physicians and Surgeons", Glasgow.
Fellow of two of the Science Academies of India.
Fellow of National Academy of Medical Sciences
Other Contributions:
Former Secretary – General and later Chair of the Board and CEO of the International Agency for Prevention of Blindness (IAPB) in which role played a pivotal role in developing and fostering the global initiative to eliminate avoidable blindness along with WHO – VISION 2020: The Right to Sight in partnership with World Health Organization (WHO).
Board of Trustees, International Council of Ophthalmology (ICO).
Leadership Position in many National and International eye care organisations.
Founder & Chair of L V Prasad Eye Institute, India.
Boards of many national and international organisations.
: Awards and Honours:
Naumann Award from International Council of Ophthalmology for "outstanding global leadership in eye care".
Bernardo Streiff Gold Medal from Academia Ophthalmologica Internationalis for outstanding contribution made to the advancement of ophthalmology.
Kupfer Award from Association for Research in Vision and Ophthalmology for outstanding accomplishments as a researcher, ophthalmologist and humanitarian.
Jose Rizal Medal from Asia Pacific Academy of Ophthalmology for outstanding ontributions to eye care in Asia Pacific region.
World Cornea Congress Medal from International Cornea Society (Among the first ten) for outstanding contribution to the field of cornea.
International Blindness Prevention Award from American Academy of Ophthalmology.
Pisart Award by Lighthouse International, New York.
Outstanding Humanitarian Service Award from American Academy of Ophthalmology.
ARVO – Alcon Keynote Lecture.
Barrie Jones Lecture of the Royal College of Ophthalmologists, U.K.
Many named lecturers around the world in scientific meetings and universities.
Five awards from the All India Ophthalmological Society.
Three awards from the Asia Pacific Academy of Ophthalmology.
First Association of Eye Banks of Asia Award at the Asia Cornea Society Scientific Meeting of Asia Cornea Foundation.
Inducted into "Ophthalmology Hall of Fame" at the meeting of American Society of Cataract and Refractive Surgery (ASCRS) in Los Angeles. 57 ophthalmologists from around the world have been inducted into the Hall of Fame in the past three centuries.
Inducted as a Commander, Order of the Star of Africa for distinguished service to the 'Republic of Liberia' and to 'Africa in public service and sciences' by President of Republic of Liberia.
Lifetime Achievement Award by All India Ophthalmological Society.
"Gullapalli N. Rao – AIOS Endowment Lecture" created by the All India Ophthalmological Society in the year 2020. (one of the first five of all times, honoured in 2020).
The Sanford and Susan Greenberg Outstanding Achievement Prize (2020).
Civil Status:
Married to Pratibha; son Raghav married to Raelene; Daughter Vaidya married to Scott; Four grandchildren.
Powers & Functions of the Chairman:
According to Rule 12.2 of the IHS:
The Chairman, shall, by virtue of his office, be head of the institute.
The Chairman shall preside over the meetings of the board of governors.
The Chairman, shall, when present preside at the General Body, the Executive Council, formal ceremonies and celebrations of the institute.
The Chairman, may by order in writing annul any proceedings of the institute, which is not in conformity with the objectives and/or rules of the institute.
Provided that before making any such order, he shall give a notice to the concerned authority or office bearer to show cause why such an order should not be made and if any cause is shown within the time specified therefore, in the said notice, shall consider the same.
Honour Roll of Past Chairpersons: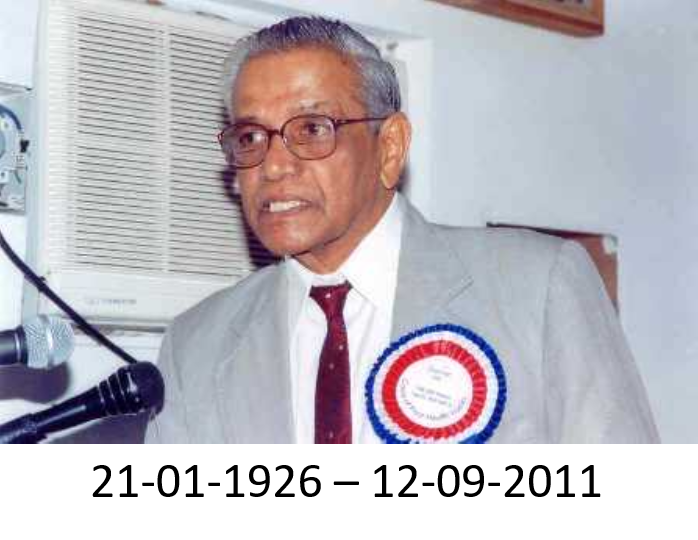 Dr. P. Hrishikesh
IHS Chairman:
21st Aug 1994 - 12th Sep 2011
Dr. Hrishikesh, passed BA in 1946, and MBBS in 1953, from the Andhra University. By 1956, he did a Diploma in Public Health from the Calcultta University followed by a Masters in Public Health from the Harvard University in 1959. He was one of the first persons from the Telugu States to have studied Masters in Public Health in Harvard School of Public Health in 1950s. He was a Teaching Fellow, at the Department of Preventive Medicine, Medical School, University of Vermont, Burlington from 1959 to 1960. Back in Andhra Pradesh, Dr. Hrishikesh taught Social and Preventive Medicine as Professor in Gandhi, Andhra and Osmania Medical Colleges, between 1961 to 1976. He was Chief Medical & Health Officer of the Municipal Corporation Hyderabad, between 1976 to 1979 and 1985 to 1987. He was Director Health in 1983 and 1984. After retirement from Government service, he dedicated himself to the Sivananda Rehabilitation Home, as its Director, and Honorary Secretary.
During the days leading up to the establishing of IHS, Dr. Hrishikesh encouraged the idea, and readily volunteered his services towards establishment of the Institute and its operation during the initial days. He ably nurtured the IHS as a Honorary Director and Chairman of the Board from 21/08/1994 until the date of his passing away on 12th September, 2011.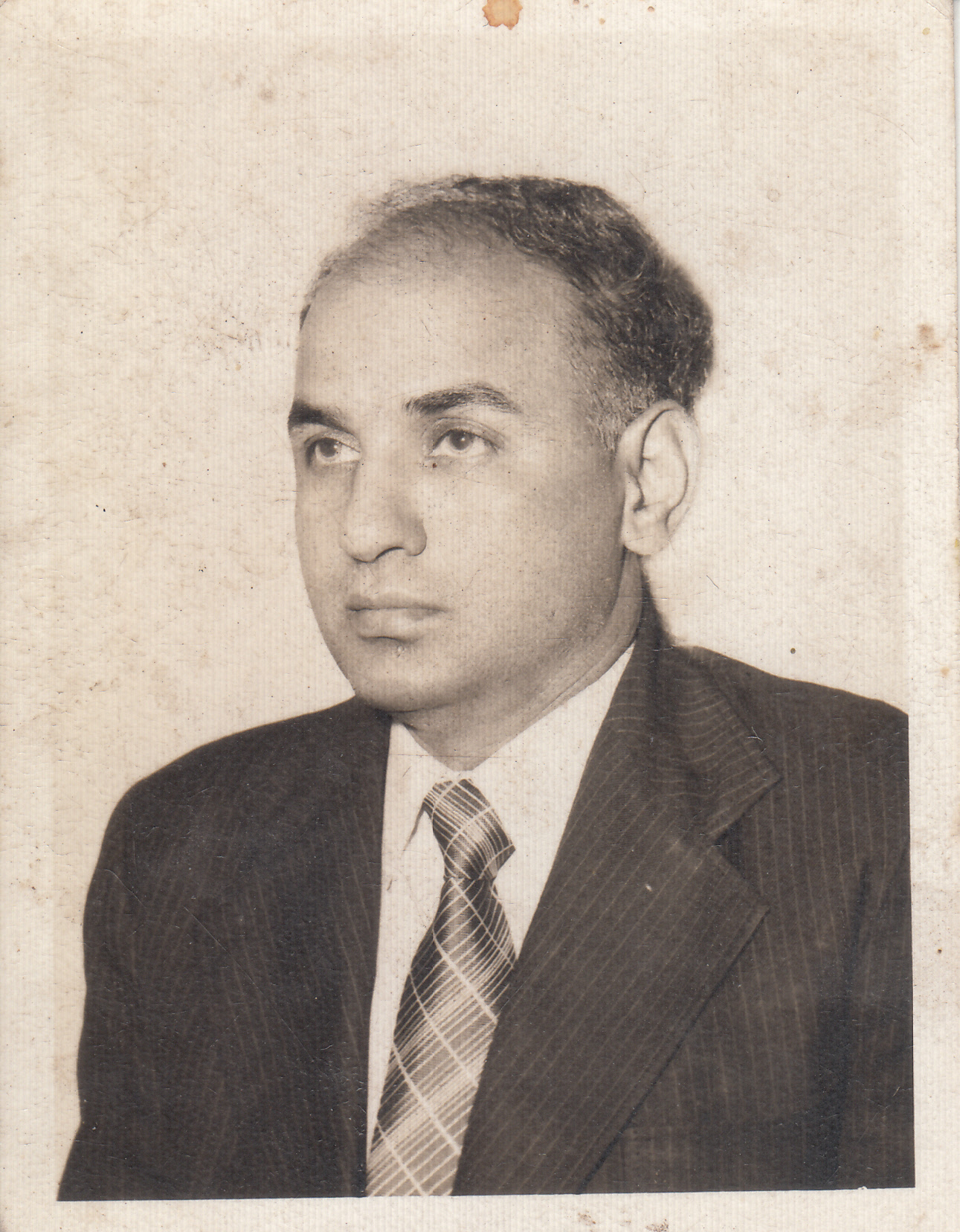 Shri G. Kumaraswamy Reddy
IHS Chairman: 05th Dec 1990 - 15th July 1994
-------------