The Institute of Health Systems (IHS) Laboratory.
Laboratory service is a backbone of health systems. Laboratories play a vital role in clinical medicine and in public health.
A clinical or medical laboratory primarily serves patients to aid in diagnosis and treatment. Clinical laboratories are healthcare facilities that provide a wide range of laboratory procedures which aid the physicians in carrying out the diagnosis, treatment, and management of patients. The modern clinical laboratory emerged along with development of hospitals which could house and utilize developing diagnostic tools such as the microscope and X-ray. Today, most of the clinical laboratories are situated within or near hospital facilities to provide access to both physicians and their patients. Aside from its known value to individual patients, clinical laboratories do play a role in screening and surveillance of diseases significant to public health.
Public Health
Labs.:
Laboratories:
Laboratories:
Public health laboratories emerged to investigate sanitary conditions of water supplies by laboratory methods. The realization that germs were responsible for epidemic outbreaks of infectious disease, coupled with development of microbiology tools and techniques expedited further development of public health laboratories, mostly established by municipal, state and national governments. Although almost all such laboratories were established by various public authorities, the key distinguishing feature of a public health laboratory is it scope. Public health laboratories primarily test environmental samples such as water, study spread of pathogenic microbes and viruses, and personal samples for purposes of screening for diseases, or to study transmission dynamics of epidemics.
Public health laboratories are vital for assessing, investigating, and analyzing the health needs, effects, and community health status. Public-health laboratories provide, what economists call, public goods to the community by way of outbreak investigation, epidemic surveillance, or epidemiologic research. This is the major reason why public-health laboratories developed largely in the public sector. State public health authorities have to function in sync with government policies and priorities. Although services of government public health laboratories are open to general public, access is often limited due to various factors.
During the course of preparing a manual for control of gastroenteritis commissioned by the Health Department of the Government of in Andhra Pradesh it was noticed that the capital city of Hyderabad, had the highest incidence of gastroenteritis in the state, despite substantive investments in water supply and sewerage systems. This triggered the idea of public health laboratory to enhance access and empower the general public in water quality monitoring. Purpose was to provide appropriate support for people's action towards improvement of people's health. Smt. G. Shyamala, who had recently retired as Chief Water Analyst from the Institute of Preventive Medicine, Government of Andhra Pradesh, helped establish the Water Quality Testing service. The IHS Laboratory was inaugurated on 16th March 2004 by Sri JVR Prasada Rao, the then Secretary, Ministry of Health and Family Welfare, Government of India.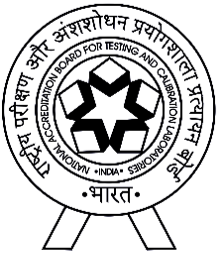 Lab Id: T-4179;
Certificate Number: TC-7658; Issue Date: 06-08-2022; Valid Until: 05-08-2024.
The IHS Laboratory is gradually developing itself as an easily accessible Public Health Laboratory for laboratory tests that are relevant to safeguarding and improvement of people's health. Keeping with this objective, new test services are introduced to meet felt needs. The IHSL follows sound quality assurance mechanisms and adopts standard test methods for all tests including newly introduced tests. However, immediate accreditation by NABL may not be feasible, for various reasons. Thus, at any point of time, the laboratory would have a set of NABL accredited parameters, and other parameters for which NABL accreditation is not yet available. To avoid any misrepresentation, the IHSL we adopt a strict policy of using NABL symbol in test reports only if all test results included in the report are within the scope the accreditation. For more details see;
The IHSL Policy for Use of NABL Symbol and Claim of NABL Accreditation on Test Reports.
Water Quality Testing.
The IHS laboratory provides comprehensive facilities for testing water quality, including chemical and bacteriological analysis in the laboratory, field testing and sample collection services. Various water testing activities include; potable water testing service, municipal supplies and metro water testing, water testing for food safety and FSSAI licensing, ground water testing, RO water testing, bottled water testing, waste water analysis, effluent water tests, sewage treatment plant water tests, etc. Indian standard laboratory procedures and in certain cases, the American Public Health (APH) standards for testing of various water quality parameters. The Institute provides a wide range of accessible water quality testing and analytical services for public health.
Are you being served potable water?
How safe is the water you drink at home?
How good is your ground water?
How is the metro / municipal supply?
Is your groundwater good for gardening?
Do you really need a RO purifier?
What would be an appropriate water purifier for your needs?
Is your society sewage treatment plant working fine?
What can a water quality testing laboratory do?
Checkout:
Which includes a wide range of test packages:
Drinking water quality tests such as; BCT, BPT, CPT, GPT, BWP, ROP, BSV.
Chemical quality tests such as; BQT, TQT, GQT.
Medical water testing such as; DRF, DLB, BET.
Enviornmental water analysis such as; SBP, SQT, SOD.
Waste water analysis such as; ETB, EWT, STE.
Construction & Industrial water analysis such as; WBC, WCT.
Swimming pool water testing such as; PST, PWC, PWB.